This post is also available in:
English
日本語
ไทย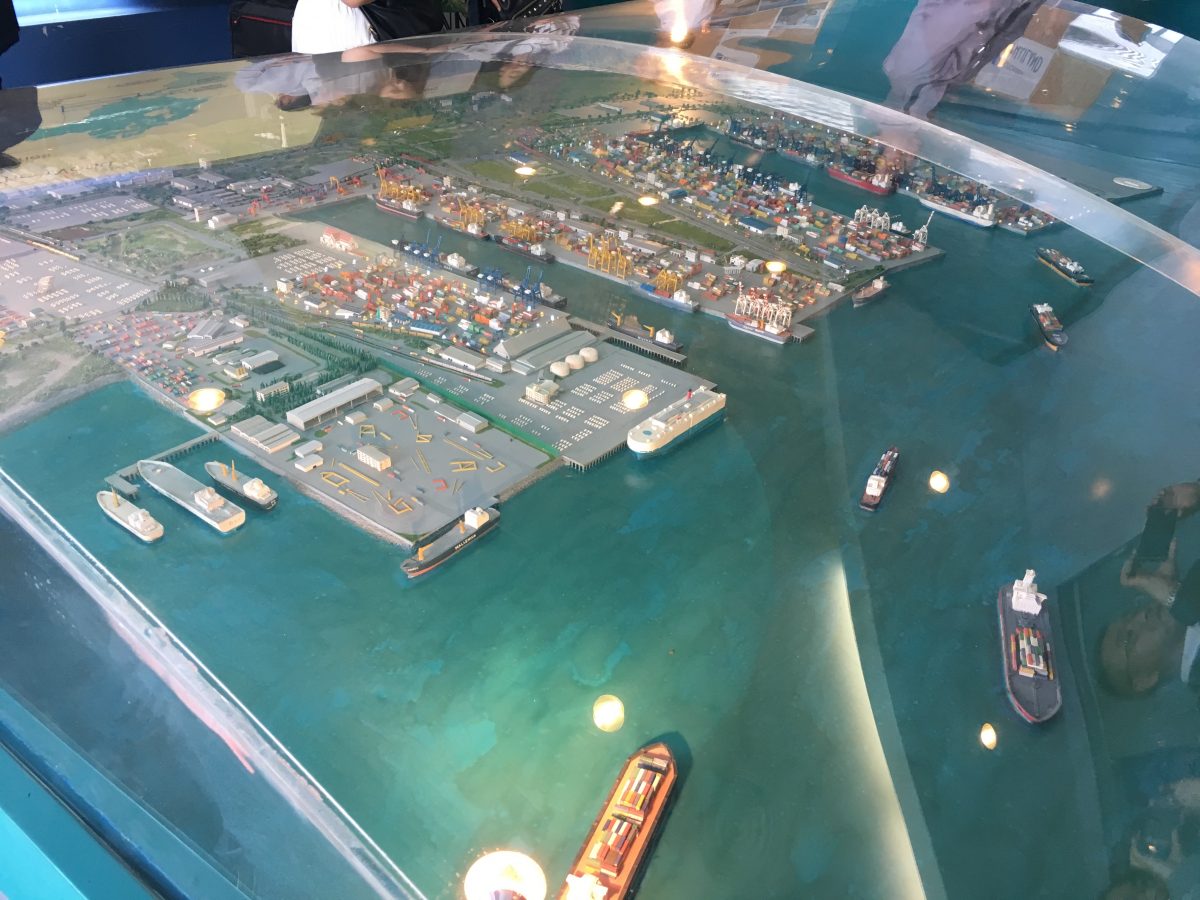 We recently participated in the inspection of Laem Chabang Port / Lat Krabang ICD sponsored by the Japan Chamber of Commerce and Industry in Bangkok, so we would like to share that information.
It was a valuable experience that we can hear the explanation directly from those who are operating at Leam Chabang port and Lat Krabang ICD.
Laem Chabang Port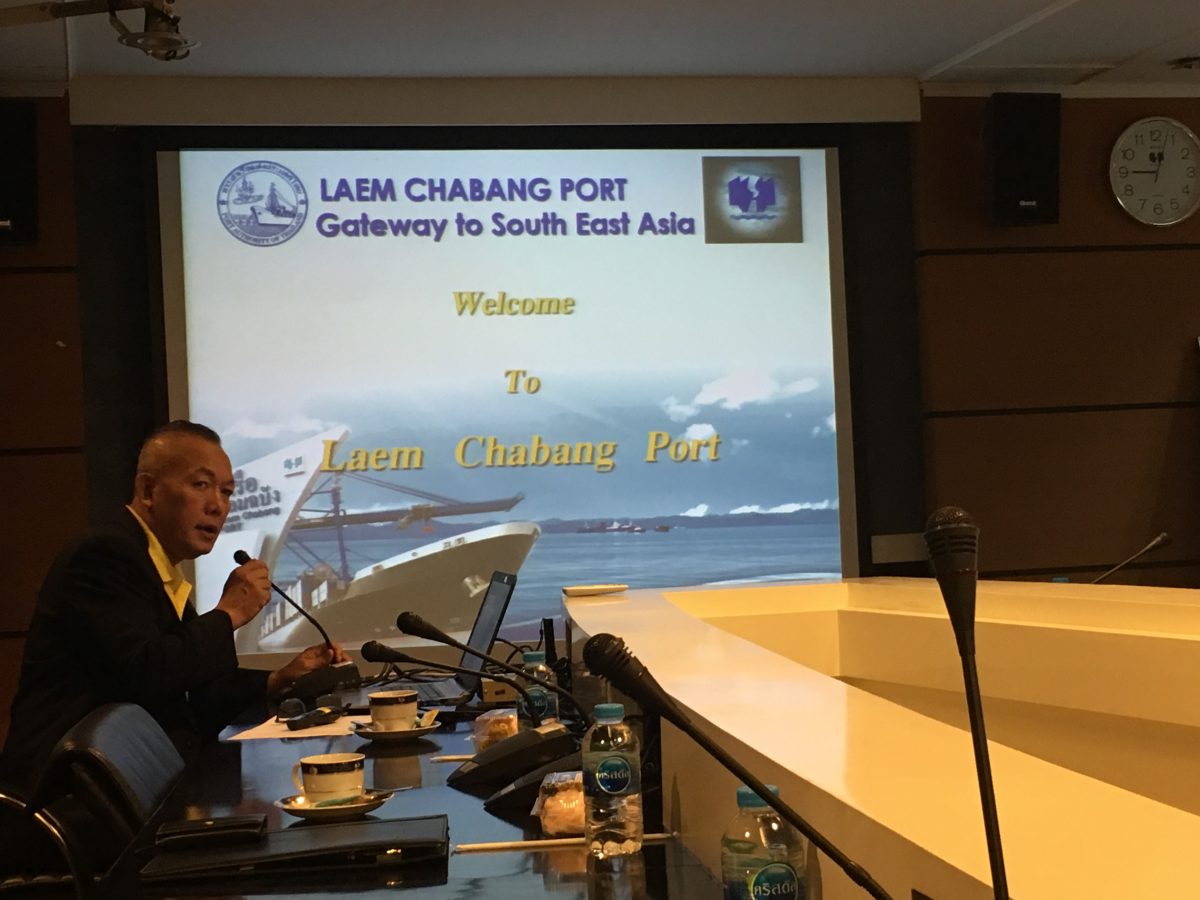 Mr. Sorop, Director Enginnering at LCB port, explained about Laem Chabang Port for us.
History of Laem Chabang Port
It is a major port in Thailand which opened in Chonburi Province in Thailand in 1987 and has been developed since then. The size of the land is 1,700 hectares square meters, and the cargo is delivered by roads, railways, sea and several routes. It is located about 100km from Bangkok Port and about 95km from Suvarnabhumi Airport
Laem Chabang Port is operated with an efficient world class system, and 10,800,000TEU container transportation per year, and more than 2 million cars are imported and exported using this port.


There are 6 X-ray facilities installed at the port, and all container cargoes are checked with X-rays. It was surprising for us that ALL containers are checked by X-ray. There were quizzes that showed pictures of X-rays and made guesses of cargo as below picture. There is a training of X-ray examination for the operator.
Also there is wind power generation in the Leam Chabang port area, and it seems that they are putting emphasis on environmental measures such as greening in the harbor.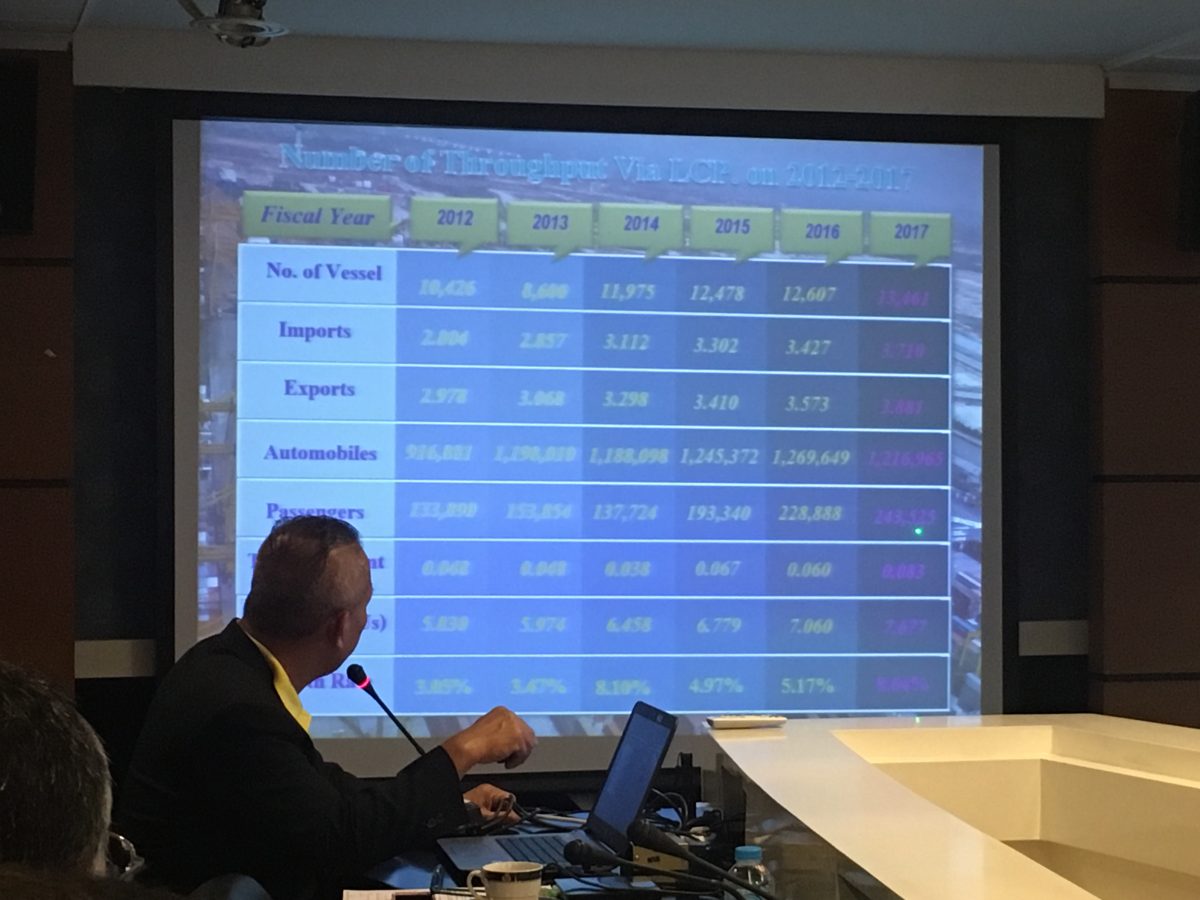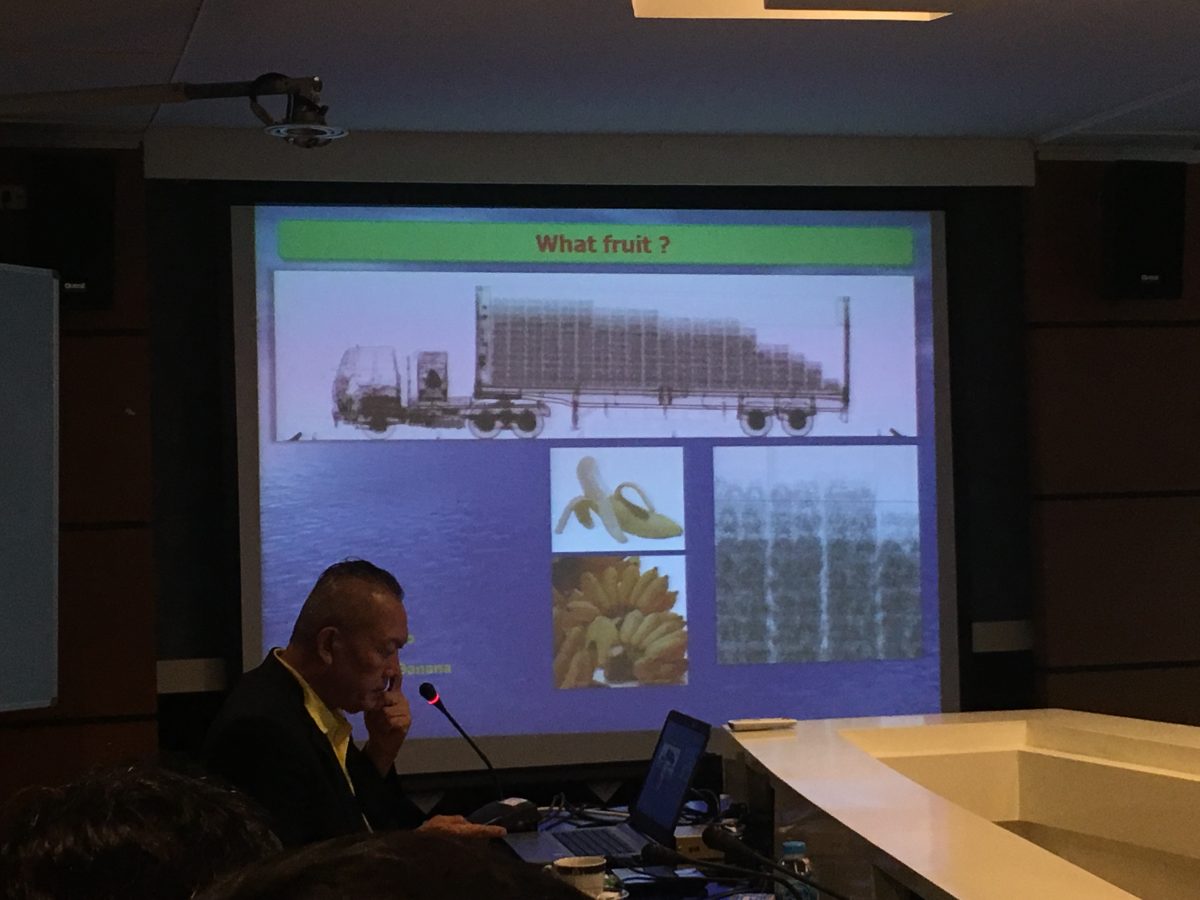 Berth at Port of Laem Chabang
The berth of Laem Chabang Port is divided into three phases. Phase 1 is completed in 1991 and it is operating 100%, but Phase 2 is about 65% running still under development. In Phase 3, it is said that it will be decided by bidding from now on about how to prepare the site and facilities such as cranes, and which company will be the operator.
Since Thailand is in the central position of AEC, they are dealing with development that will be adopted to change of logistics towards the ASEAN region future development.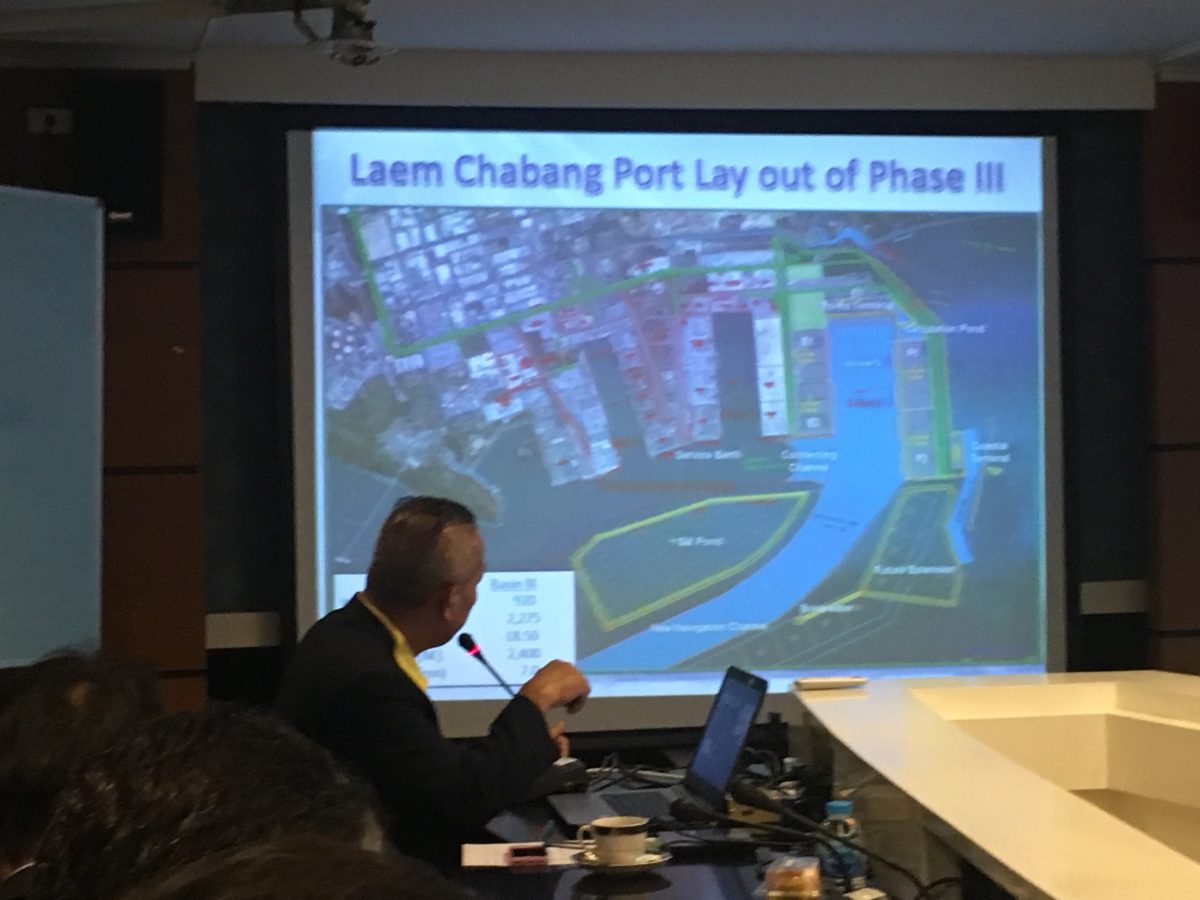 Phase 1: Currently operating at 100%
A0
A1-5
B1-5
Altitude – 14 m
Phase 2: Approximately operating at 65%
C 0
C1-3
D1-3
Altitude – 16 m
Phase 3: planned to be developed
E0
E1-2
F1-2
Altitude – 18.5 m
Railway to Laem Chabang Port
At Laem Chabang Port, there is a railroad leading to Lat Krabang ICD. There is a plan to expand this railway. It seems that rail cargo transport from Lat Krabang ICD is not effectively used now that cargo handling of this railway is not going well. Consequently, it leads the traffic jams at Lat Krabang area.
We moved up to the Leam Chabang Tower. Phase 1&2, Railer Way, Green area, X-ray facilities are confirmed by the top of Leam Chabang Tower view.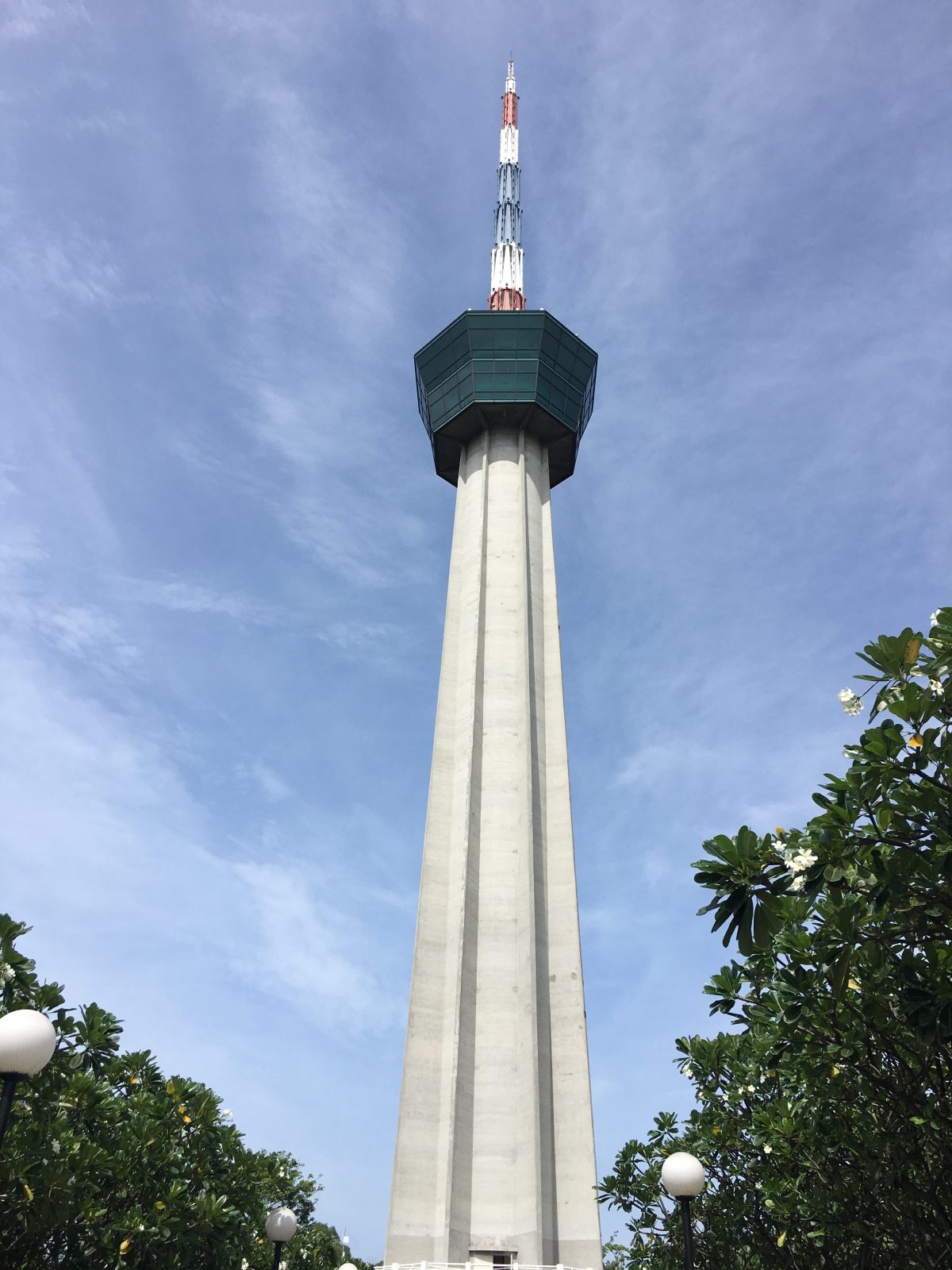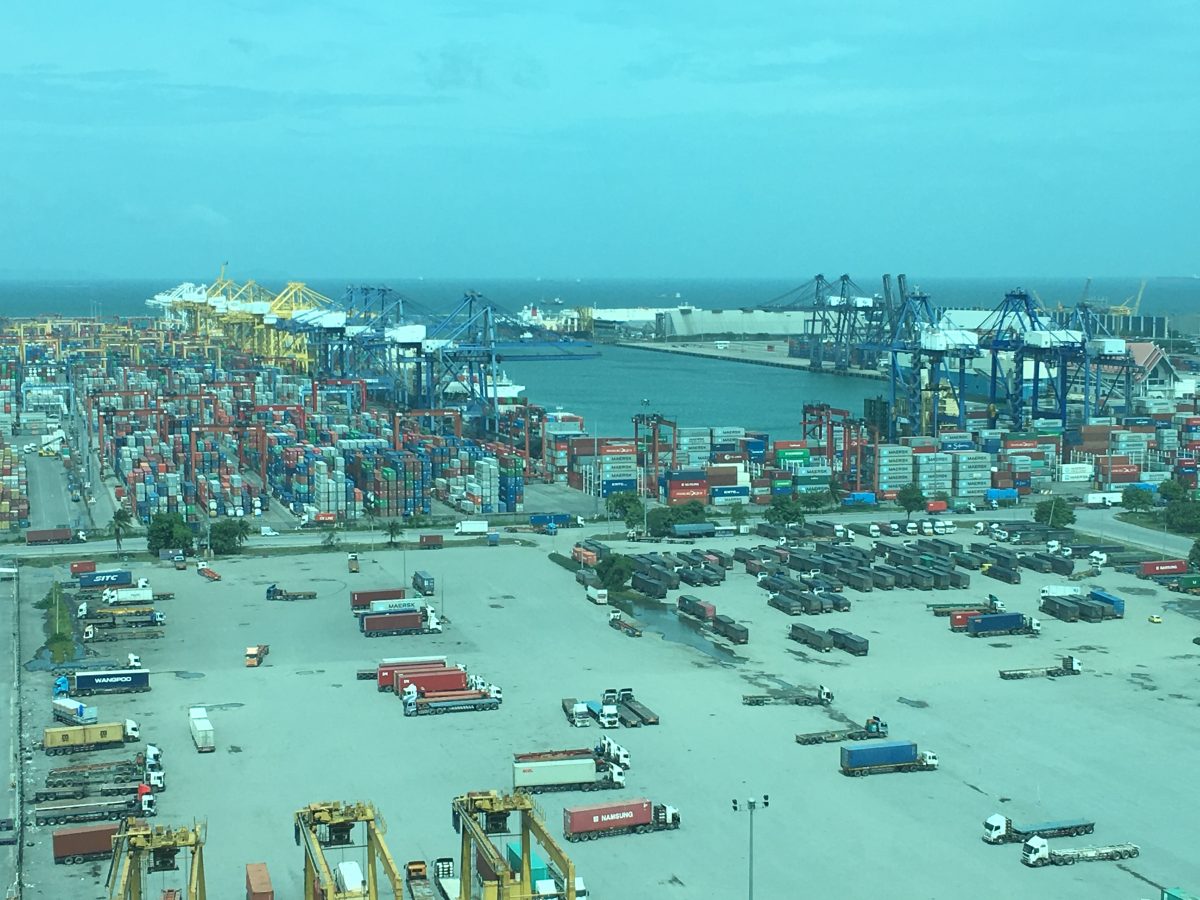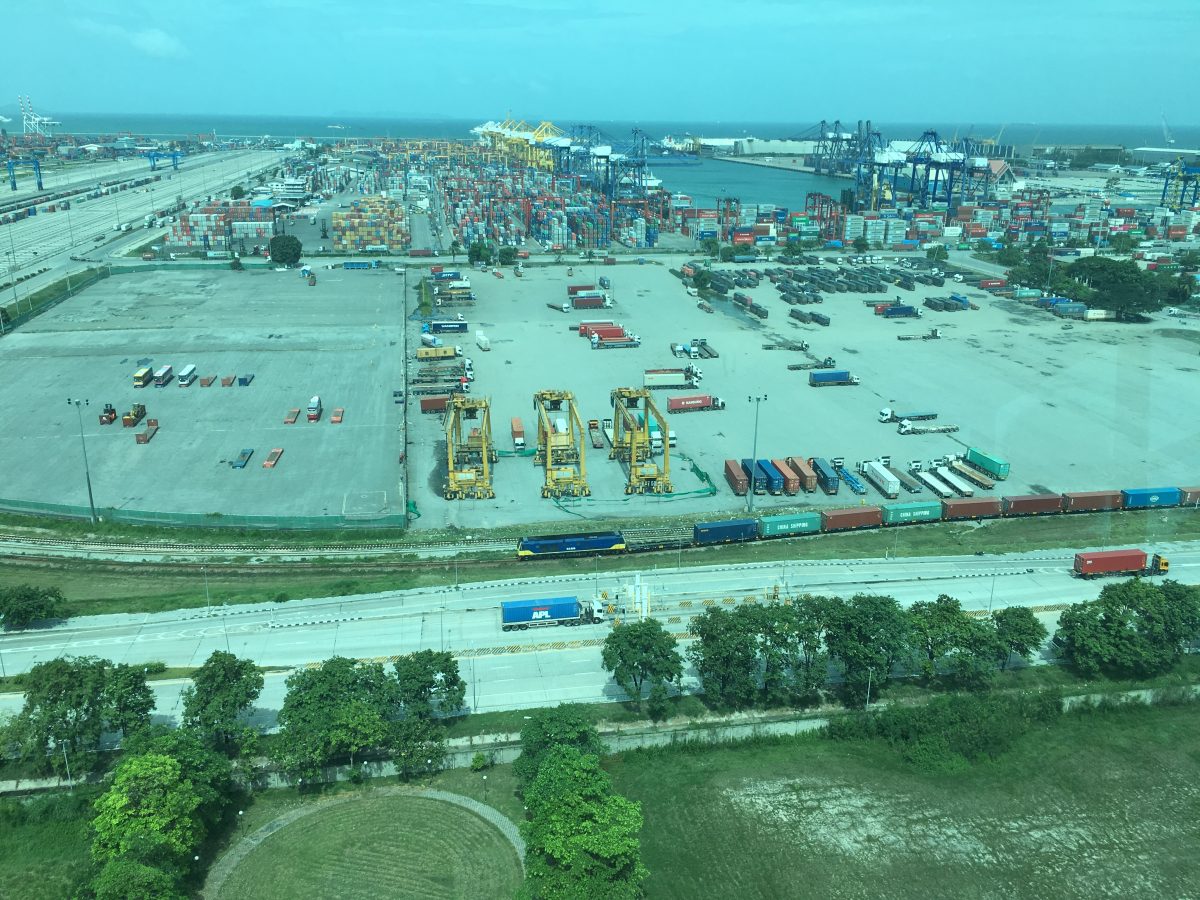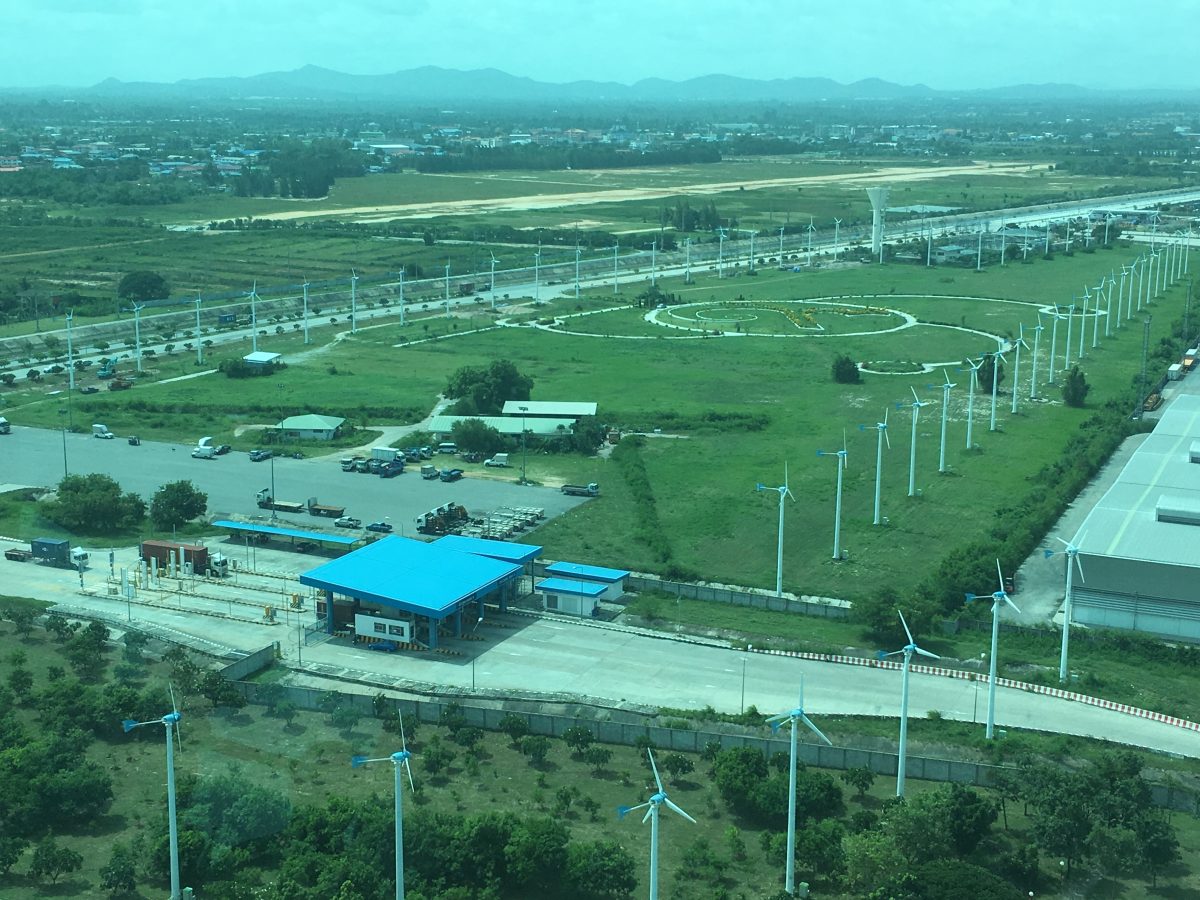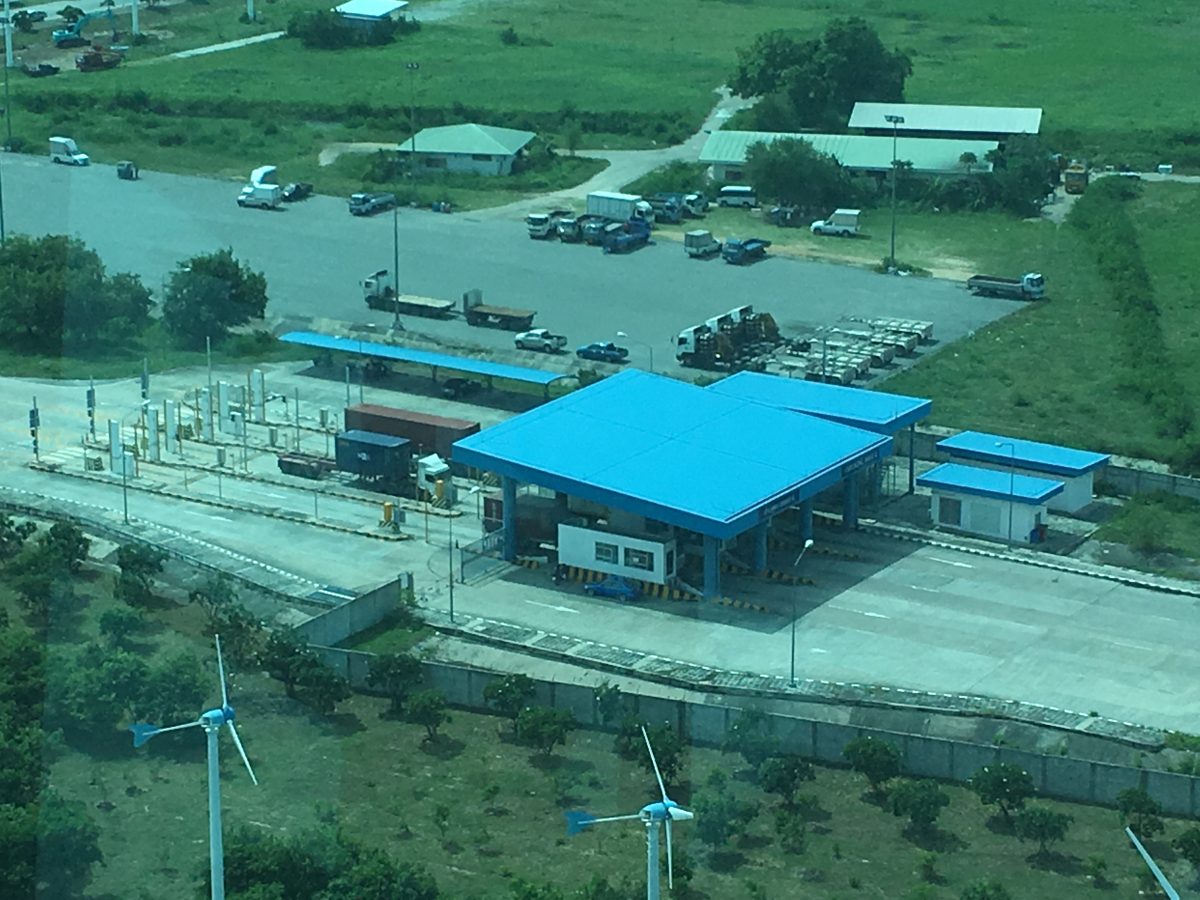 HUTCHISON PORTS THAILAND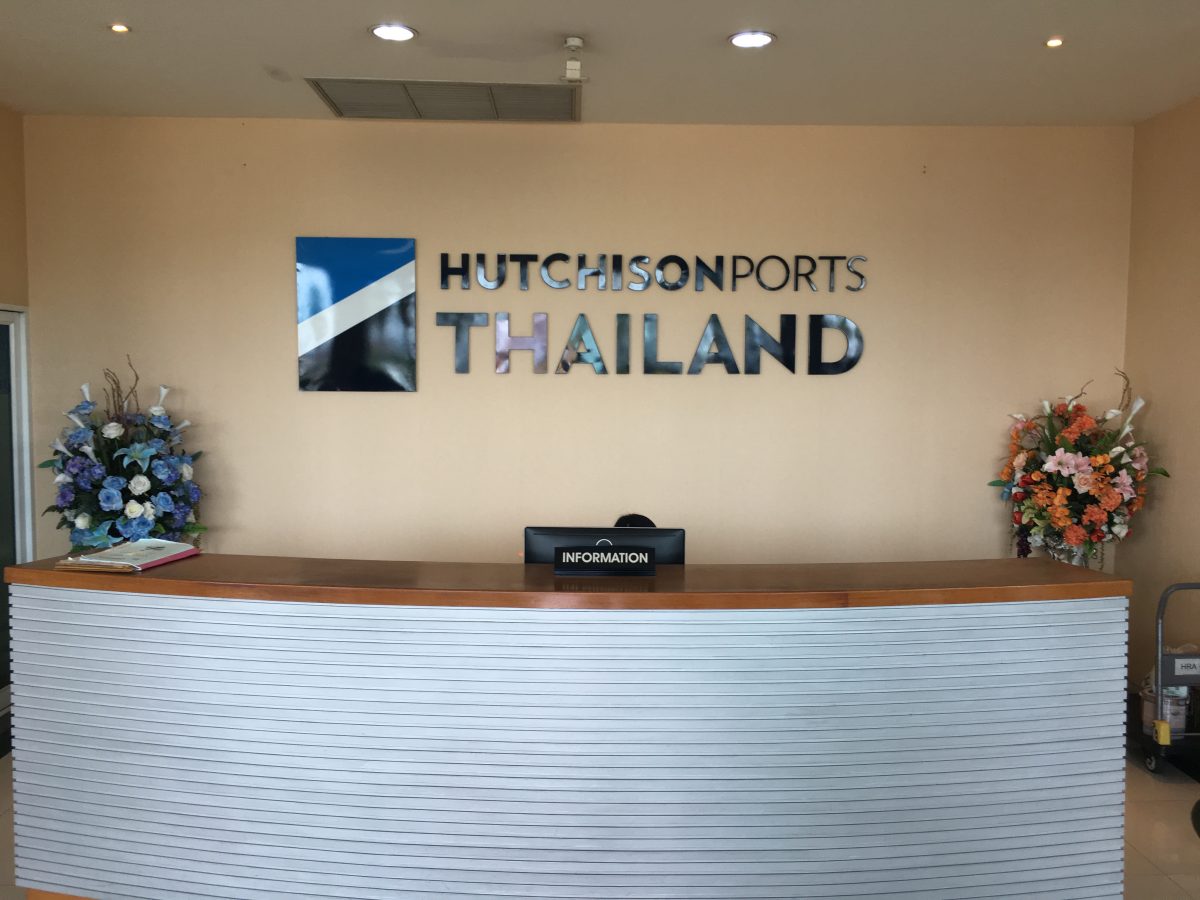 Next, we visited the terminal operator at Laem Chabang Port. HUTCHISON PORT THAILAND founded in 2002 and operates as an operator of A2, A3, C1, C2, D1, D2, D3 at Laem Chabang Port.
In HUTCHISON PORT, we found the remarkable operation which is remote gantry crane operation. The operator's working position of the Classic gantry cranes is in the top position of the crane. Thus, the workers have to work at the noisy and uncomfortable place.
HUTCHISON PORT THAILAND enables to operate the crane from the center using the latest technology, which reduce the operator's stress and provide the better working place. Certainly it is comfortable compared to the original workplace since there is no noise if remote control can be done, breaks are easy to take. Also, it is both efficient and safe. We think it would be better to lead to reduction of container handling errors.
We also visited terminal D where remote operation operation is done. Terminal D is still under development and it is very tidy and quite. It is hard to understand in the photograph, but the crane is being controlled remotely.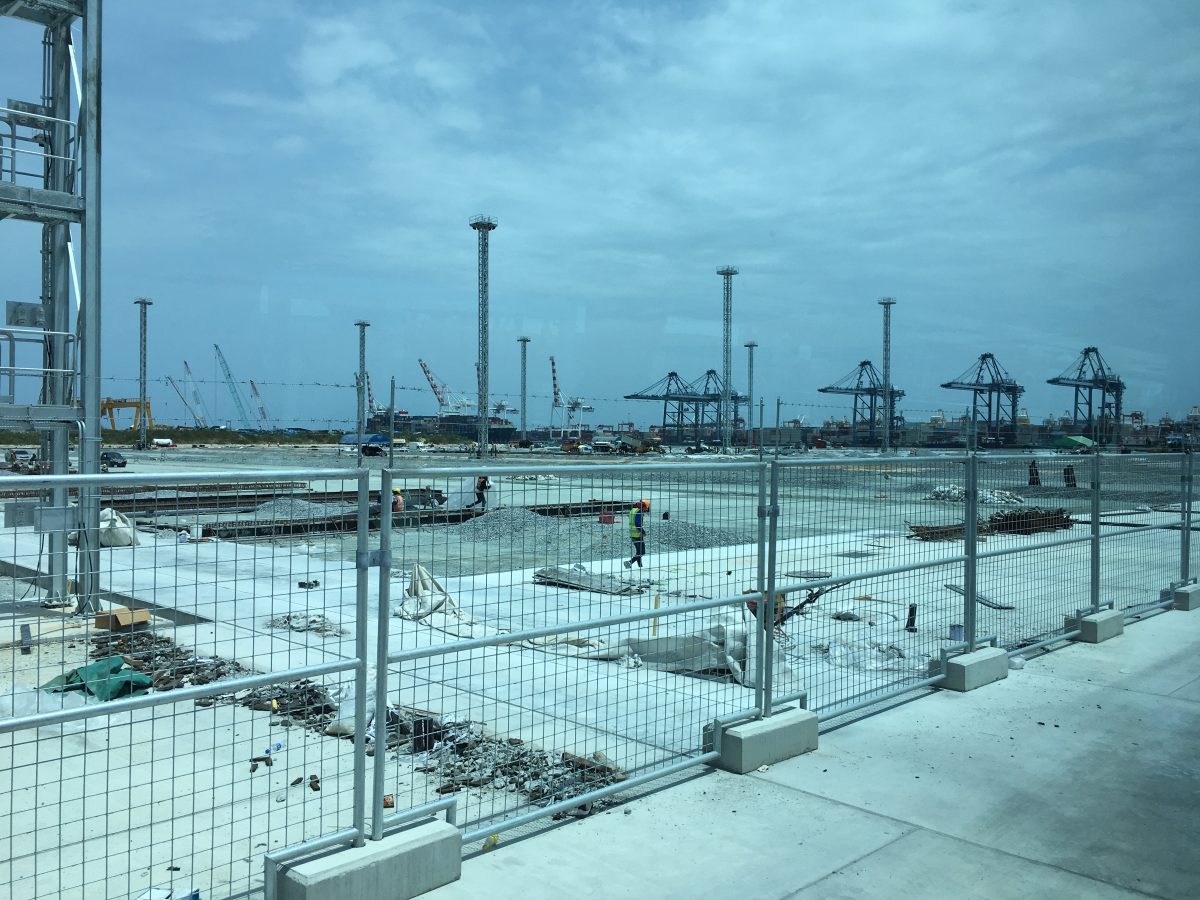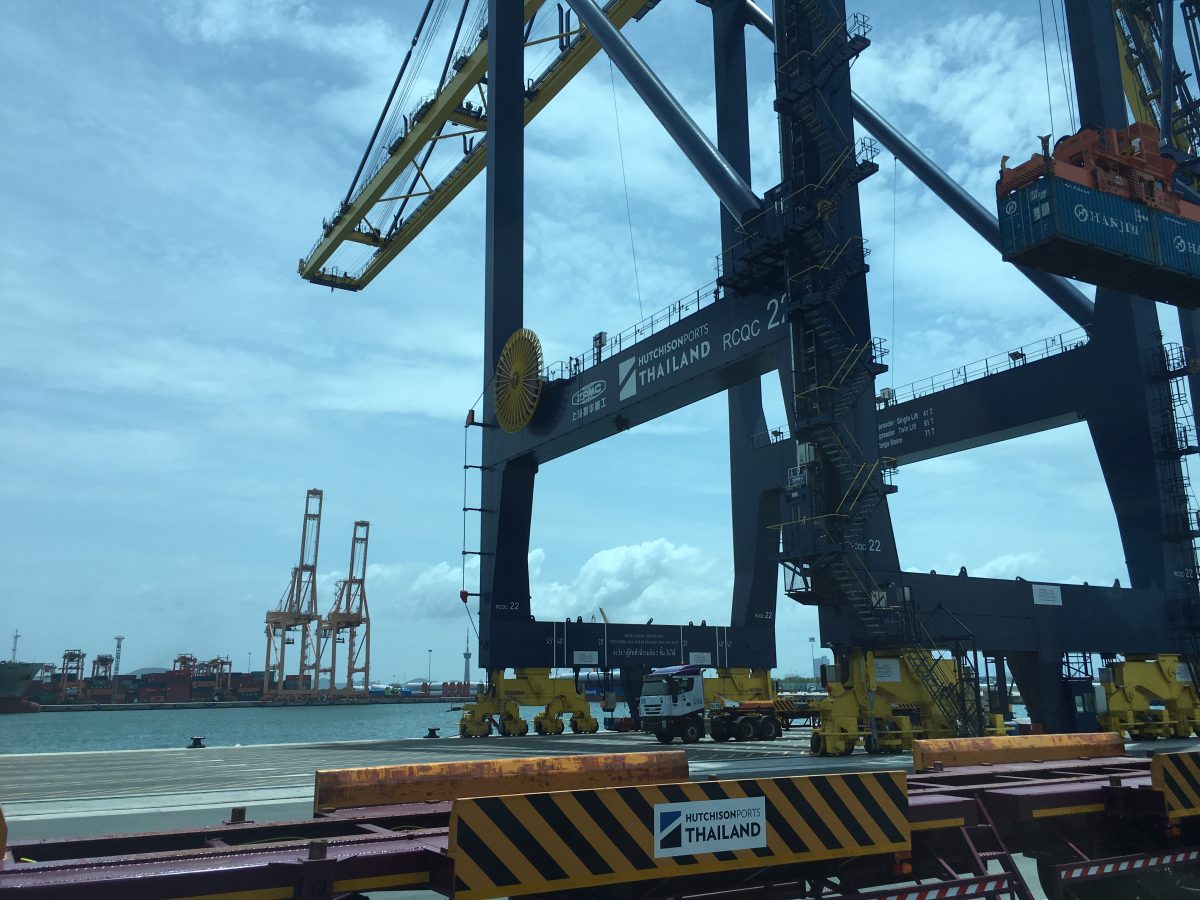 Lat Krabang ICD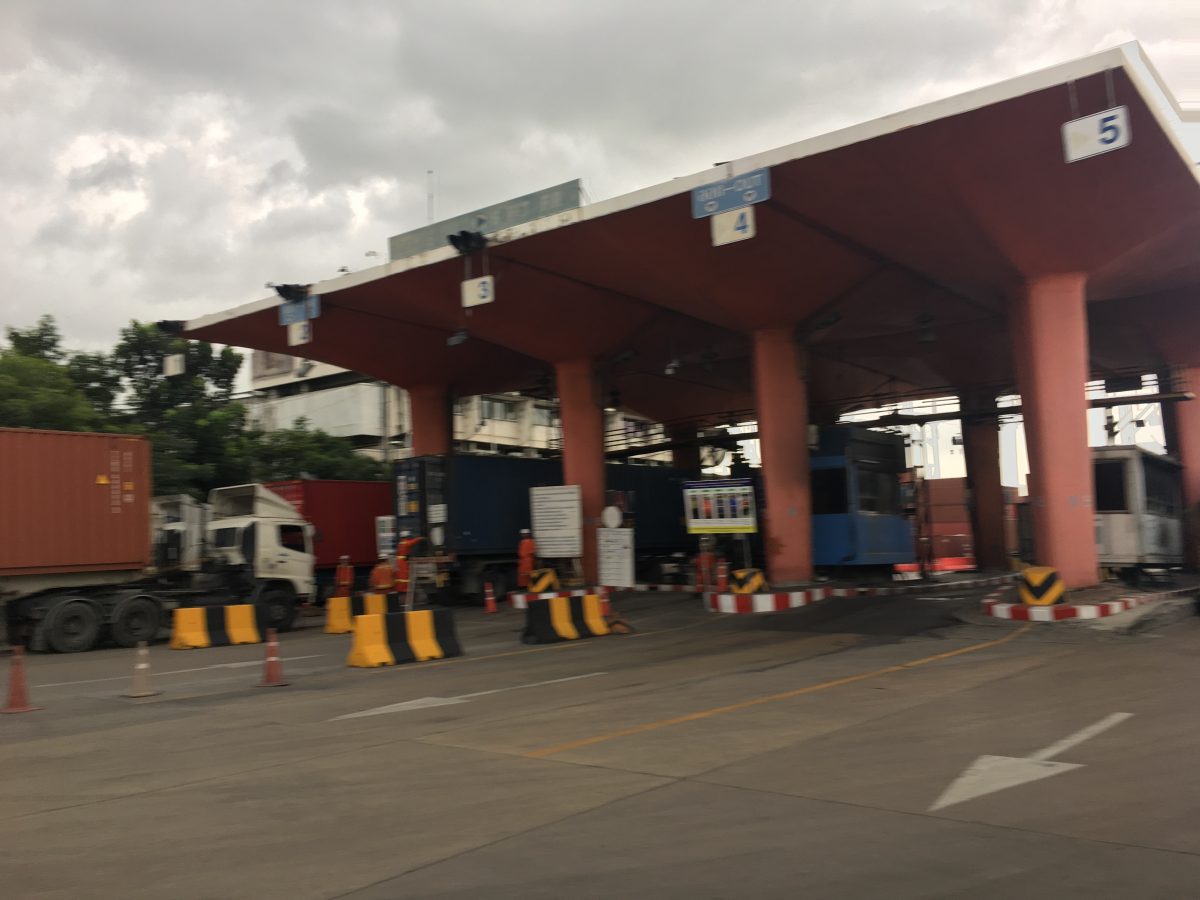 Lastly, we visited Eastern Sea Leam Chabang Terminal Co., Ltd (ESCO), operator of Lat Krabang ICD.
Lat Krabang ICD was located about 100km from Laem Chabang Port and about 20km from Bangkok Port and was opened in 1996. At that time the port of Bangkok was used mostly, so it was opened with the purpose of supporting Laem Chabang Port. Lat Krabang ICD is now used as a substitute port for Bangkok Port.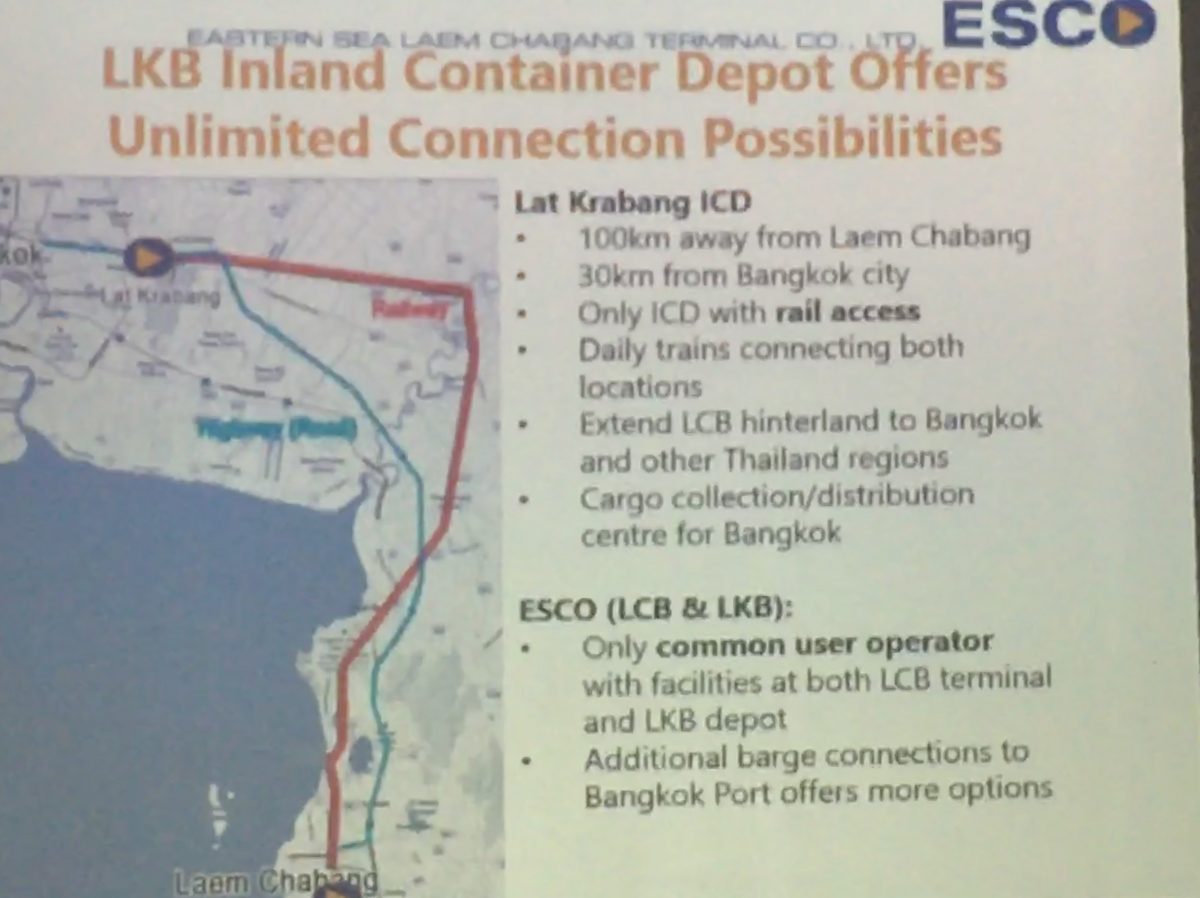 Handling volumes of imports and exports at each port in 2017
LKB 1.4 Million TEU/year
BKK 1.5 Million TEU/year
LCB 7.8 million TEU/year
Operator of Lat Krabang ICD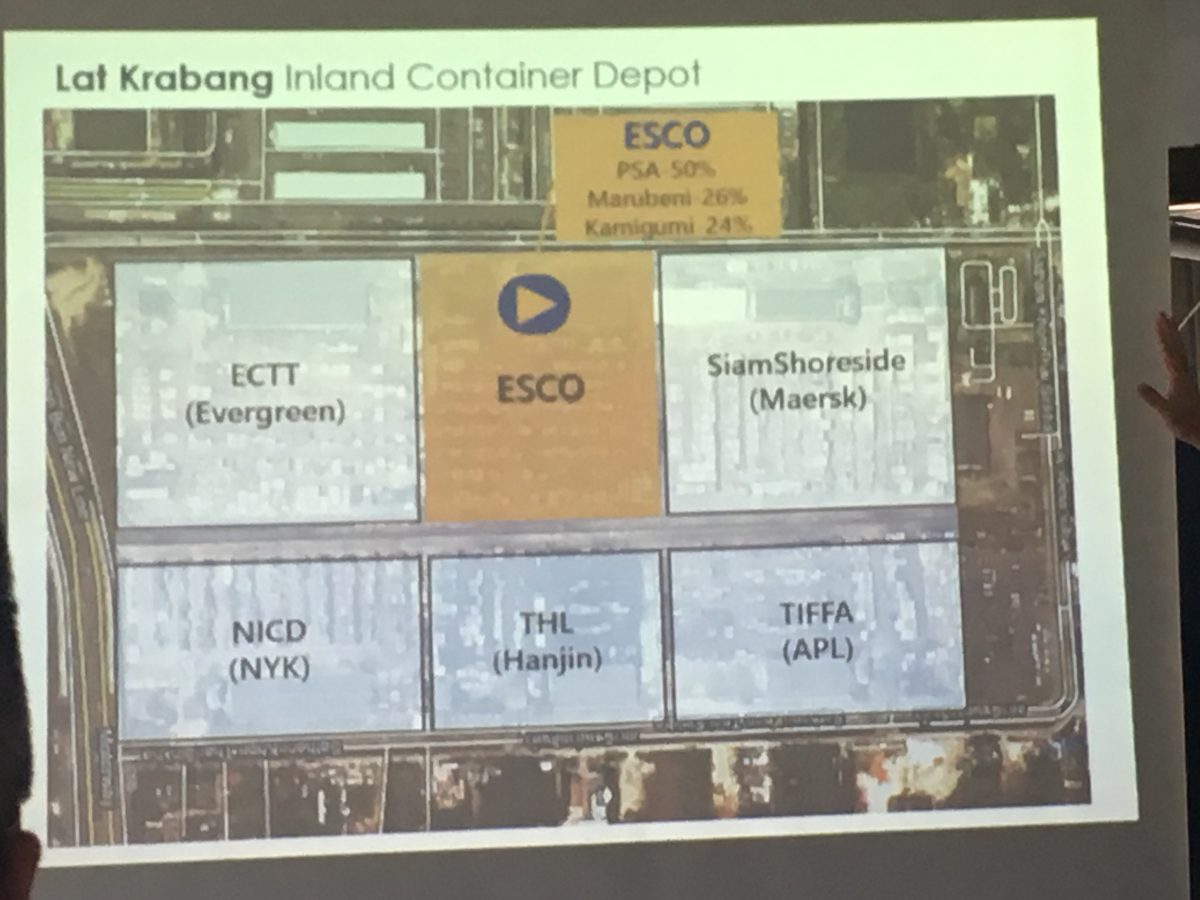 Lat Krabang ICD is currently operated by six operators. A railway runs through the center as you can see the picture.
Speaking of Lat Krabang ICD, the railway leading to Laem Chabang Port is considered to support delivery the containers to Leam Chabang port. However, it is the true that the transportation between Lat Krabang ICD and Laem Chabang Port, the operators use not only railway but also they use trailer as well. We were surprised at that ratio of using railway and trailer.
Current transportation ratio between Port of Lat Krabang and Laem Chabang port
· Trailer: 80%
· Railway: 20%
In the past, it was about 60% trailer and 40% railway, but the ratio of Rail is decreasing year by year. Traffic jam is a serious problem because the railway is not functioning sufficiently.
Number of current train services: about 10 services/day
68TEU/trip
The railway does not come from Leam Chabang port often. The reason was the railroad route problem inside the port of Laem Chabang.
Question time
Who decides to use either railroads or trailers?
The shipping company decides.


What is the difference in transportation time between railroad and trailer?
Train: If you go as fast as 4 hours. * It may take 20 hours if it is late
Trailer: 3, 4 hours * Maximum 6 hours


Is there a case that can not be boarded to a ship because of the delay of the railroad?
It is not handling of ESCO. If the train does not come, we arrange the truck and deliver the cargo to Laem Chabang Port.


How long is the cargo handling time?
In and out of the container comes and goes within 45 minutes. Track waiting time is unknown.


PIC of ESCO said that it is necessary to negotiate with the government concerning railway improvement. It is not the issue that the private companies can control.
Construction plan of Chatunsao ICD
A new ICD is made in the Chatunsao area of ​​Thailand and there are plans to connect with the current railway. We do not know much details yet, but we hope it will improve the transportation of containers and improve the traffic jam.
Summary
In this visit, it was a big impression that the port of Laem Chabang is further developed as the center of ASEAN. They are continuing to develop for expanding the berth and handling further cargo.
Moreover, we felt that evolution is continuing, such as operation by remote operation using technologically. On the other hand, railway is not functioning well for ICD, but it is expected for future development.
There are many things that we do not know without actually looking at the site. We will inform customers of what we learned this time, then it will be able to provide smooth logistics service.